Paragon Machine Works
Precision Bicycle Frame Building Components Since 1983
35 years of making high quality, aesthetically pleasing parts.
Contact
Phone: (510) 232-3223
E-mail: orders@paragonmachineworks.com
Fax: (510) 232-3533
Address: 253 S. 25th St. Richmond, CA 94804
Our Services
Paragon Machine Works prides itself on providing personalized service and superior products manufactured in the USA.
We have design development and high volume manufacturing capabilities, offer competitive pricing, and guarantee customer satisfaction.
Our Story
Paragon Machine Works was founded in 1983 in Marin County, California, by owner Mark Norstad, in the basement of his parent's house with one manually operated lathe and mill. It has grown into a thriving machine shop, occupying an 8,000 square foot building in Richmond, California. Paragon Machine Works manufactures and stocks a wide variety of bicycle frame building components in titanium, steel, stainless steel, and aluminum. We are a leader in bicycle frame building technology, constantly innovating and providing new products to meet the demands of the industry and the needs of the frame builders. In addition we have manufactured parts for heavy equipment, solar, environmental remediation, and process equipment companies.
Download the Paragon Machine Works Product List
References available upon request.
Community Involvement
Paragon Machine Works is a proud member of:
Paragon Machine Works has co-adopted the Downie River Trail in the Plumas National Forest near Downieville, CA with Paul Component Engineering through the Sierra Buttes Trail Stewardship.
Our Staff We are proud of our knowledgeable and dedicated staff. We are committed to providing living wages, benefits, and a friendly work environment. Our staff is the reason we are able to provide high quality products and excellent customer service.
Mark Norstad
Company Founder and Owner
Mountain Bike Hall of Fame Inductee, 2017 Mark's passion for machine work started in a high school machine shop class. He continued his professional development by completing an Associate of Arts Degree in Machine Metals Technology from College of Marin, California in 1979. Being an avid rider, it was only natural that his first production job was making dropouts for Trailmaster Bikes. Paragon Machine Works is now known for being the premier provider of precision bicycle components. Mark's skills have been refined over the years by completing complex design and manufacturing products for makers of bicycle frames, heavy off-road vehicles, process and alternative energy equipment. He credits his success to over twenty-five years of manufacturing experience, his passion for metal working, and a dedicated and knowledgeable staff.
Coco Brown
Shipping Department / Customer Service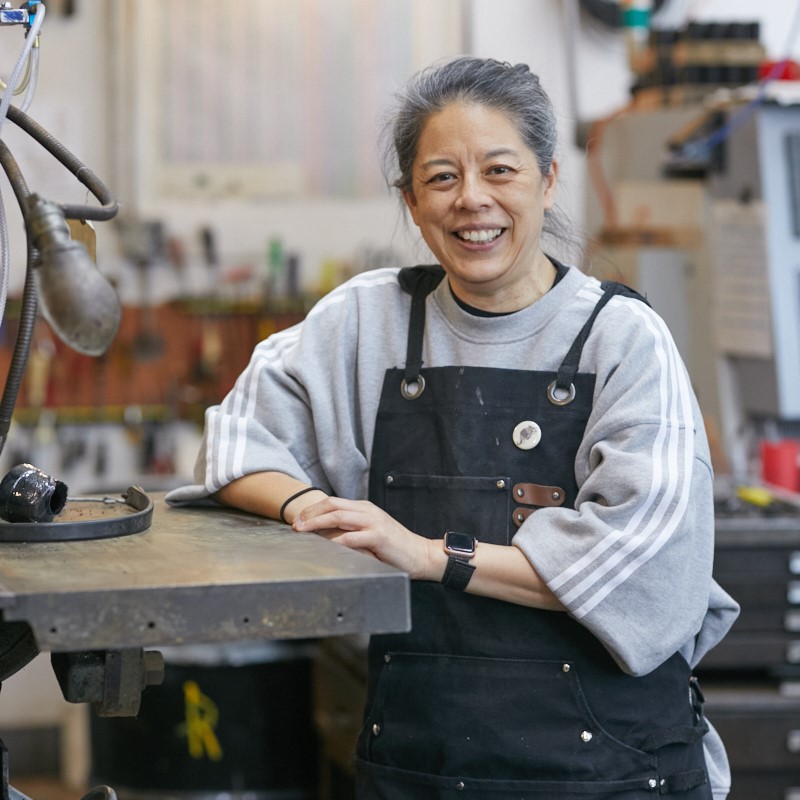 Coco came to us with 10+ years experience in retail management and customer service, so we feel very fortunate to have her on staff. She enjoys working in a small business, our friendly staff, and having the opportunity to "provide the best parts for frame builders". Outside of work she teaches indoor cycling at her local YMCA and hangs out in her husband's local bike shop.
Karen Donaghy
Bookkeeper
Karen has been doing our book keeping since our invoices were created on a typewriter. She does payroll, pays the bills, prepares our tax information and generally keeps an eye on our financial health. We feel fortunate to have her support and dedication. When she's not at Paragon she enjoys working as a dental assistant.
Tyler Larsen
Machinist

Tyler likes to make stuff," especially bike stuff for cool bike companies and builders I hold in high regard". This, along with his strong work ethic, six years of bike shop experience, and ability to integrate information and learn quickly make him a valuable member of our team. Tyler hails from Wyoming but is happily integrated into the Bay Area. Outside of work he is learning to play the drums, and enjoys cross racing and going to Emmy's Spaghetti Shack with his girlfriend.
Luis Lopez
Machinist Luis graduated from Laney College with a degree in Machine Technology. He is a hard worker who likes to learn new skills and create things. He is continuing his education by taking CAD classes at Laney College. He is using these skills to help design and program new products, and create downloadable 3D models and drawings of existing products for our website. When he's not at work he enjoys bicycle riding and touring, hiking, and spending time with friends and family.
Joe Peterson
Machinist Joe's previous experience as a professional mountain biker, bike mechanic, and math and science teacher, and his attention to detail makes him and excellent programmer and machinist. His specialty is turning center work and he fabricates most of our headtubes. Joe enjoys taking concepts and turning them into beautiful parts, and he really likes riding his bike in the dirt.
Franco Romano
Machinist Franco came to PMW with extensive machining and management experience. Franco's expertise as a programmer and machinist makes him a valuable staff resource and member of our team. Franco also acts as our OSHA compliance officer, helping to minimize hazards and promote safety through staff education. In his free time Franco does ultra-distance bike rides.
David Taylor
Machine Operator Dave has worked with and around bikes and machine shops since he was a teenager. He comes to Paragon with a solid background in manual machining and a love of making functional, good-looking parts. This, along with the joy he finds in working with his hands, creating things, and riding bikes makes him an ideal fit for the shop. His skills carry over to his personal life where he always has a bike, woodworking or house project going on.
Javier Valencia
Machine Operator Javier's skills include manual machining and metal fabrication. This, and his many years as a bicycle mechanic give him a strong foundation in manufacturing, and an understanding of the products that Paragon Machine Works makes. Javier enjoys the learning new skills and the "endless possibilities to create physical form" that machine work offers. A true Renaissance man, Javier enjoys cycling in all forms, hiking with his dog, skateboarding, reading Spanish literature, and traveling.
Rory Earnshaw
Photographer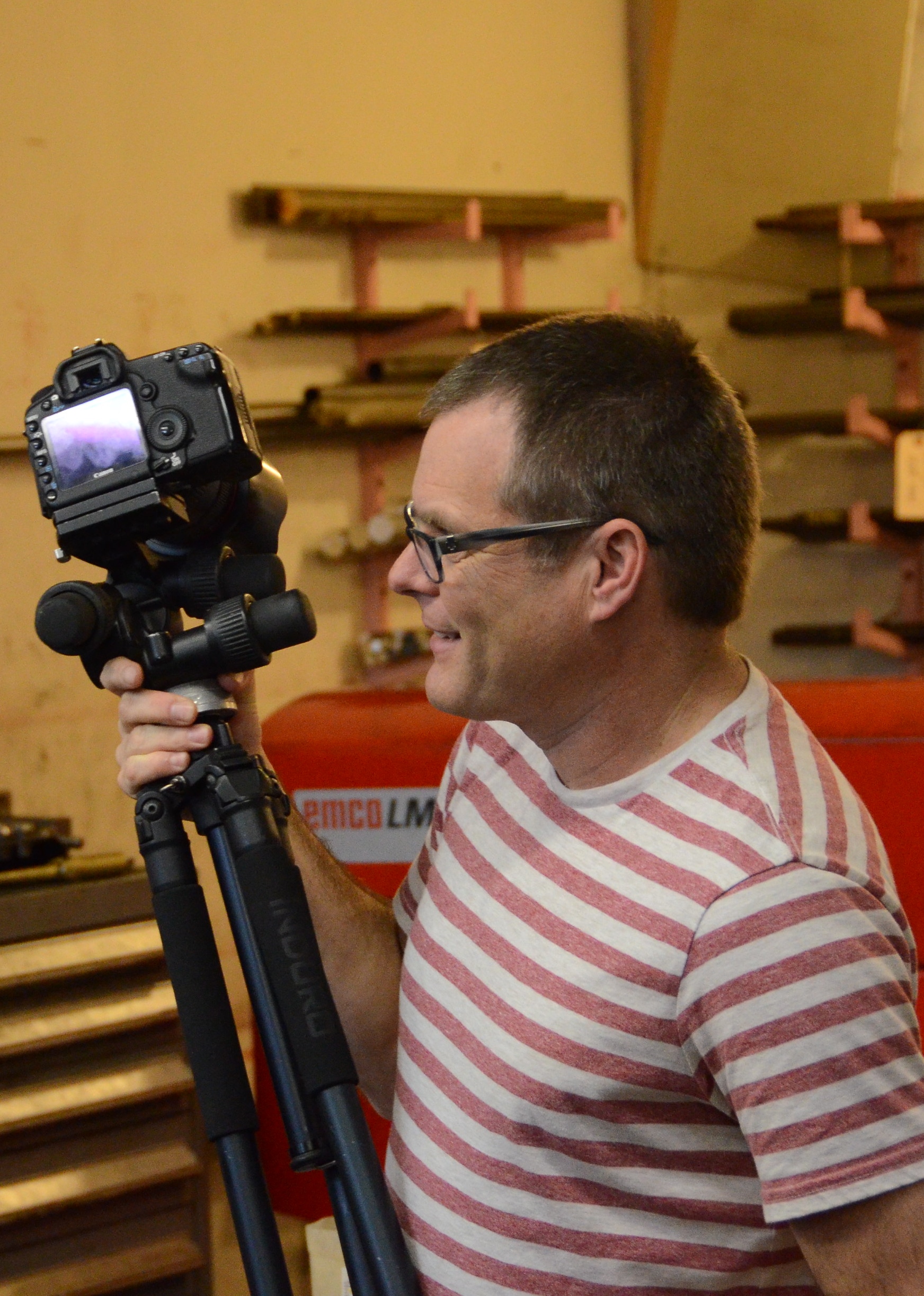 Rory is the man behind all the beautiful product photos that are on our site. Born in London, he has had a camera in his hands since he was a toddler. He was an accomplished photographer by the age of 12 and attended a prestigious photo school in Edinburgh, graduating in 1985. Rory's philosophy is to shoot well, to shoot often, and to deliver what the client wants on time and on budget. He's certainly done that for us, and he's a joy to work with. Today Rory shoots corporate annual reports, table-top fine art, corporate/music industry portraits, product, packaging, lifestyle, editorial, music CD's, as well as fine art landscapes. Rory brings a great sense of style, professionalism, and love of photography to every project that he does. For more information visit his website, Rory Earnshaw Photography.