Our office is closed on Thursday, November 26th and Friday, November 27th for the Thanksgiving holiday.
Please place your order online and we will process it when we return on Monday, November 30th.
Introducing the T47 Bottom Bracket
We are excited to introduce the T47 bottom bracket, a joint effort between several American bicycle and component manufacturers: White Industries, Chris King Precision Components, Argonaut Cycles, Engin Cycles and Paragon Machine Works.
T signifies THREADED, and 47 is the MAJOR DIAMETER of the thread. Like the venerable English threaded bottom bracket, a standard for decades, the T47 has right and left hand threads and can be supplied in a variety of widths. However, this new bottom bracket features a finer thread pitch of 1 mm and a larger diameter of 47 mm.
The larger diameter allows for larger diameter bearings in both internal and external applications, a requirement for 24 mm and 30 mm crank spindles. Frame building materials have evolved from steel to aluminum, carbon fiber and titanium, and frame tubing diameter has increased. A corresponding larger bottom bracket shell makes it far easier to join these large diameter tubes.
The threaded bottom bracket has stood the test of time as a secure and trustworthy method of assembly. Easily serviceable by the average rider or shop personnel, threaded bottom bracket shells rarely creak or make noise, a common problem with modern bottom brackets. Since the T47 is a modernized version of the English bottom bracket, consumers and bike shops are already familiar with how it works.
The T47 could potentially replace all other BB standards, reducing inventory for builders, bike shops and manufacturers alike. Any PF30 eccentric bottom bracket will fit in the T47. Future innovations in crank spindles and bottom brackets can likely be accommodated.
The design is open, available to anyone without permission or royalties. It is not patented or trademarked.
We have a limited number of steel and titanium 69 mm (BB0040, BB2040) and 74 mm (BB0042, BB2042) T47 bottom bracket shells available for sale; more will be available the week of November 23. Frame and bicycle manufacturers will need the correct taps to utilize this new bottom bracket; these will be available from White Industries and PMW late 2015.
Drawings
BB2042 (STEP), right click, "save as"
Components for Flat Mount Hydraulic Disc Brakes
Hydraulic disc brakes have become a standard feature on mountain bikes, and are now gaining popularity on road bikes. The newest disc brake standard is a road-specific flat mounting system developed by Shimano. The rear brake sits flush to the frame and is mounted inboard on the rear triangle, with the brake caliper directly mounted on the frame. This offers a cleaner and more minimalist appearance, and allows a more compact packaging of the brake caliper.
The bolts thread into the bottom of the caliper, rather than threading in from the top as is the case with post mount brakes. At the chainstay the bolts no longer thread into inserts in the frame, but pass through the chainstay from the bottom. Because the bolts thread in from the bottom of the caliper, the front brake must be used with a slim adaptor.
We are excited to have embraced this new standard and are in the process of expanding our selection of compatible parts. Our newest PolyDrop inserts work with flat mount disc brakes for a 140 mm rotor. They are available for 10 mm (PA462, PB462, PA464, PB464) and 12 mm skewers (PA466, PB466, PA468, PB468), with and without eyelets. We will eventually expand our line of products to include other flat mount rear dropouts in titanium, steel, and stainless steel. We will also offer stand-alone flat mounts for all of our round dropouts.
Check our homepage for product updates.
Paragon Machine Works News
Download the Paragon Machine Works Products and Price List
Get Ready for #GivingTuesday!
We are joining in the effort to celebrate generosity and giving. On Tuesday, December 1, 2015, also known as Giving Tuesday, charities, families, businesses, community centers, and students around the world will come together for one common purpose: to celebrate generosity and to give.
On this day, not only will we donate all sales revenue from our promotional items, we will match the amount sold and donate it all to Gearing Up. Gearing Up is a non profit organization that teaches disadvantaged women the practical skills needed to integrate biking into their lifestyle.
They also offer three weekly indoor cycling sessions for women incarcerated in Philadelphia County Women's Prison, Riverside Correctional Facility. Women who complete 18 sessions are considered "Spin Sisters", receive a certificate of completion, and are invited to join Gearing Up beyond the walls and enroll in their outdoor biking program. To remain in the program, the women must meet expectations including remaining drug and alcohol free, consistent attendance, following rules of the road, and maintaining respect for program rules. These lessons can be transferred into skills used to become self-sufficient by sustaining sobriety, maintaining job responsibilities and creating a healthy and safe community.
Please join us in supporting this worthy organization on December 1st, and throughout the month of December through our Giving Back Campaign.
Listen to the story: Biking Behind Bars: Female Inmates Battle Weight Gain
Holiday Shopping
Our new t-shirts have arrived just in time for the holiday season. We have added two styles: a black t-shirt with a blowout diagram of our PolyDrop, PR80, and a heathered purple T with our skull logo, PR81.
Starting December 1st through the 23rd, all our promotional items and bottle openers will be available for 15% off. To sweeten the deal, when you purchase one we will throw in a black utility bag that features our signture skull logo in magenta pink for FREE (while supplies last)!
New Products
T47 Bottom Bracket Shells and Inserts for Flat Mount Disc Brakes
See our featured article at the top of this page.
Purge Fitting and Heatsink for Threaded Bottom Bracket Shells
We have expanded our selection of purge fittings/heatsinks to include both 100 mm, FT5007, and 120 mm, FT5008, threaded bottom bracket shells. The center pieces and draw bolts for these heatsinks and FT5002 are all interchangeable; if you already have our FT5002, you only need to purchase a compatible center piece and matching draw bolt to accommodate the wider bottom bracket shells.
Steel 1-1/8" Round, Rear Dropouts with 17 mm Flange
We now make our small, light, 1-1/8" Wright-style round, rear dropout with a 17 mm flange height, DR2023. Machine from 1-1/8" bar stock, the left side is 6 mm thick and the right side with the hanger installed is 8 mm thick (purchased separately)
Syntace X-12 Skewer
The Syntace X-12 skewer is now available for sale in a 148 mm length, SY4002.
Titanium Seat Collar
Our newest seat collar, MS0044, is 1-3/8" OD x 4" long, bored accurately to 30.9 mm. It has a 1/2" long step to fit a 1-3/8" x 0.035" seat tube and is made from 3/2.5 titanium.
Fork Boss
Our fork bosses are intended for use as eyelets for low rider racks. They are available in 303 stainless steel, MS1033, and 1018 steel, MS2033, and have an M6 x 1 threaded through hole.
Holiday Schedule
It's hard to believe that the holidays will be here soon, this year has flown by. We hope yours are relaxing and filled with good cheer. When thinking of a gift for your loved ones, keep our titanium bottle openers in mind, a gift that keeps on giving year after year. Coming soon! A new line of Paragon t-shirts in updated colors and designs, and back by popular demand, our exclusive Kearney and Trecker T's. Look for special *Holiday Pricing* for the month of December on all our promotional items. You can feel especially good about your purchase knowing that all proceeds go to non-profit organizations that promote bicycle safety, awareness, and community.
Thanksgiving
Closed Thursday, November 26th and Friday, November 27th
Staff Luncheon
Friday, December 18th, office closes at 12 PM
Christmas
Closed Thursday, December 24th and Friday, December 25th
New Year's
Closed Thursday, December 31st and Friday, January 1st
Unthreaded Steel BB Pricing
Due to increases in our manufacturing quantities, we have been able to significantly reduce pricing on most of our unthreaded steel bottom bracket shells. Check out our new lower pricing here.
FedEx Shipping Option
We now offer FedEx as a shipping method with many different delivery options available. Unfortunately we have had many problems over the past year with UPS, and are planning on discontinuing it December 15th if all goes well with FedEx. We appreciate your understanding and patience during this transition.
NAHBS/Bespoked Discount
We are offering 50+ pricing on all our parts that are used on a NAHBS and Bespoked 2016 bike.
The Rules:
1) you must be a registered NAHBS/Bespoked exhibitor to receive the discount, 2) parts must be used on a bike that will be exhibited at NAHBS/Bespoked 2016, 3) one order per customer, 4) order must be placed by February 1, 2016 for NAHBS bikes, by April 1, 2016 for Bespoked bikes, 5) order must be placed by phone, fax or e-mail; no online orders accepted (we will not provide a refund for orders placed online).
Thank you for supporting Paragon Machine Works, we're looking forward to seeing all the beautiful bikes!
Upcoming Events
The North American Handmade Bicycle Show returns to the West coast in 2016 (see our NAHBS discount offer above). It will take place at the Sacramento Convention Center in Sacramento, California on February 26th, 27th, and 28th, 2016. Come and see the work of some of the premier bicycle frame and component manufacturers throughout the world. Make sure to stop by our Booth #512 and say hello. If you love bicycles, this is an event that you don't want to miss!
Do you love handmade bicycles and want to travel to the United Kingdom? Then Bespoked 2016 is the show for you! Bespoked is a celebration of handmade bicycles and those who make them (see our Bespoked discount offer above). It is said to be Europe's premier handmade bicycle show, attracting exhibitors, visitors and press from around the world. 2016 will be the show's 6th year and visitor numbers have increased each year with in excess of 6000 visitors in 2015. Bespoked 2016 will take place the weekend of April 15th - 17th in Bristol, UK.
Giving Back
Paragon Machine Works donates 100% of all revenues from the sale of our bottle openers and promotional items to non-profit organizations that promote bicycle safety, awareness, and community. During the month of October we raised $800 to benefit Friends of Tamarancho to help them finish the Caballo Rojo Trail at Camp Tamarancho in Fairfax, CA.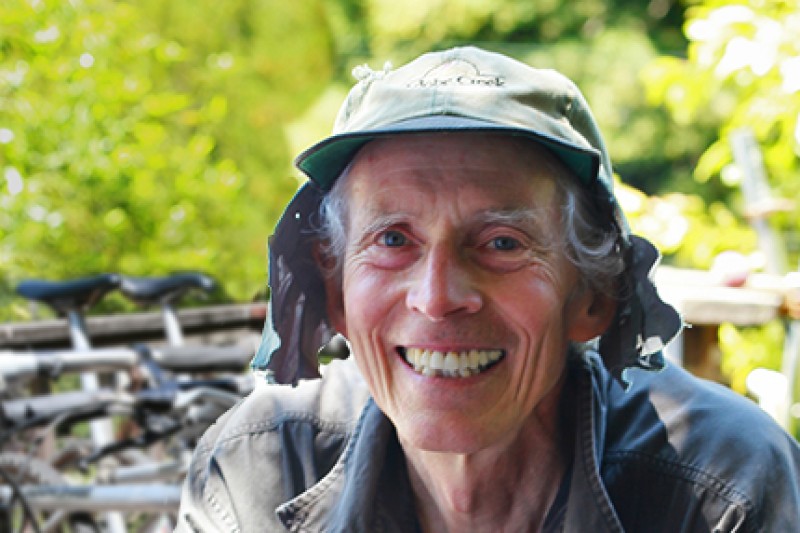 In November we will donate all proceeds to a pillar in the bicycle industry, Charlie Cunningham. In early August, 2015, this bicycle builder, inventor and all around amazing person, fell off his bike and sustained several serious injuries. Charlie suffered broken bones, bruises, and trauma to his head. At the time, he didn't feel his head injury was significant. Unfortunately, six weeks later, the head injury manifested into a subdural hematoma, a life threatening condition that resulted in emergency brain surgery. The road to recovery is going to be long and involve many specialists to help him get back to his former self. His home will need modifications to allow him to live there. It is unknown how long he will be wheelchair bound. Please consider making a purchase or donating to a fund that has been set up to help offset the costs of his rehabilitation and the "ramping up" of his home. We wish him all the best as he works toward what we hope will be a full recovery.
We appreciate your support!
Total amount donated to date: $13,119
Previous Beneficiaries
• Sonoma County Bicycle Coalition • National Interscholastic Cycling Association • Friends of China Camp • SF Urban Riders (McLaren Bike Park) • Bike East Bay • Friends of Tamarancho • In Memory of Tom Polermo • Marin Museum of Bicycling • The Friends of Stafford Lake Bike Park • VetBikes.org • Bay Area Outreach & Recreation Program
---
Sign Up for our Monthly E-Newsletter
Our monthly newsletter will let you know about our new products, events that we will be attending, and provide you with useful information on bicycle fabrication. We value your privacy and do not share your personal information with third parties. If you sign up to receive our newsletter you will receive a confirmation e-mail.