We will be closed on Labor Day: Monday, September 7th
Converting from 135 x 10 mm to 142 x 12 mm Hubs/Skewers
More bicyclists are choosing to convert their 135 x 10 mm hub/skewer to a 142 x 12 mm system because of the advantages it has to offer: it allows for more secure wheel mounting for use with disc brakes, and a stiffer, stronger hub and frame assembly.
All of our Sliding, Rocker, and PolyDrop dropouts can be converted from 135 x 10 mm to 142 x 12 mm hubs/skewers. It is as easy as switching out the 10 mm inserts for ones that are compatible with a 142 x 12 mm hub/skewer. Note: this does not apply to 148 mm BOOST hubs.
The first step is deciding which skewer you are going to use: Shimano, DT Swiss, or a PMW Combination Head (only compatible with DT Swiss inserts/dropouts). All our skewers are available at a discounted price with the purchase of a compatible insert/dropout. Next, decide what option you want on the right side: no hanger, conventional hanger, or a Shimano Direct Mount hanger. For all current Shimano mountain derailleurs, choose the Direct Mount hanger option. For all other derailleurs, choose a conventional hanger. And finally for a single speed, choose no hanger.
Example 1: Rider A has a greared mountain bike with PMW Rocker dropouts. He wants to use a DT Swiss compatible skewer and needs a conventional hanger for his SRAM derailleur. He chooses our B4042, and PMW Combination Head skewer SK4010 from the pull-down menu on the insert page.
Example 2: Rider B has a single speed mountain bike with PMW sliding dropouts and a Shimano mountain derailleur. She wants to change to a geared bike and upgrade to the 142 x 12 mm system. She chooses DR4044 and Shimano skewer SH000.
The next step is choosing the left side insert. Consider what brake option you are using: ISO, post mount for 160 mm rotor, post mount for 140 mm rotor, or no brake mount. Note: not all brake options are available for all inserts
The final step is replacing the old insert with the new ones which is a direct, bolt on replacement.
Paragon Machine Works News
Download the Paragon Machine Works Products and Price List
We will be closed on Labor Day: Monday, September 7th
New Products
Headset Spacers
Our headset spacers are made from 6061 aluminum and are available bare or black anodized in four different heights: 10 mm (SP4010, SP4010B - black anodized), 15 mm (SP4013, SP4013B - black anodized), 20 mm (SP4016, SP4016B - black anodized), and 25 mm (SP4019, SP4019B - black anodized). They are made to integrate seamlessly with with our titanium and steel stem steerer clamps, and are compatible with 1-1/8" steerers.
PMW Combination Head Front Skewers
We now manufacture combination head front skewers that are compatible with our 15 mm front dropouts when used with nut DR4053 or DR4053B. These skewers are also a direct replacement for a DT Swiss 15 mm front skewer. Made from 6061 aluminum and black anodized, they are available in 100 (SK4003), 110 (SK4004), 135 (SK4005), 142 (SK4006), and 150 mm (SK4007) lengths. They are threaded M12 x 1.5 mm on one end, the other end has a combination head with a 15 mm external hexagon and a 6 mm internal hexagon.
Single Cable Clamp for 4.2 mm Housing
Our black anodized 6061 aluminum single cable clamp has a 4.4 mm wide clamp to hold 4.2 mm housing. It has a 5.1 mm mounting hole and clearance to fit over a water bottle boss. Its low profile allows for the attachment of a water bottle cage on top of the cable clamp.
Welcome Matt
We would like to give a warm welcome to Matt Hamm who joined our crew in early August. Matt has a wide range of educational experience that makes him a valuable asset to our staff. He has a degree from the Denver Automotive and Diesel College, is a United Bicycle Institute and Yamaguchi Bicycle Frame Building graduate, a certified welder, and will be continuing his welding and machine technology education at Laney College. Matt is excited to be improving his machining skill set at Paragon Machine Works and enjoys the challenge of turning concepts into physical reality. When he's not at work or in the classroom, Matt spends his leisure time riding his bicycle and Harley Davidson, and exploring state and national parks.
Meet Your Maker News
The Meet Your Maker Tour is your invitation to ride alongside and hang out with some of Northern California's best bicycle frame builders and component makers.
A big thanks to White Industries who graciously hosted the last MYM Tour on August 8th through the city, hills, and backroads of beautiful Petaluma and Sonoma County. After the ride we enjoyed socializing, delicious tacos, refeshments, and a tour or their impressive shop.
Paragon Machine Works' Meet Your Maker Tour
China Camp State Park, September 12th, 2015
Please join us on September 12th for our annual Meet Your Maker Tour at beautiful China Camp State Park in San Rafael, CA. The ride will start from the Miwok Meadows Picnic Area (signs will be posted to direct you) at 10:22 AM and will take you on 10 miles of moderately technical single track that winds through meadows and forested areas. It will be a no-drop ride with staggered starts to accommodate different speeds and abilities.
Please join us after the ride for a post-ride picnic and socializing. There is no running water at the picnic site; we will have some water available but make sure to bring plenty of your own. Non-acoholic beverages, sausages and sides will be provided for your dining pleasure.
Please note: you will be required to sign a Release of Liability Waiver to participate in the ride.
For the complete schedule of upcoming rides, visit the Meet Your Maker website.
Upcoming Events
Biketoberfest Marin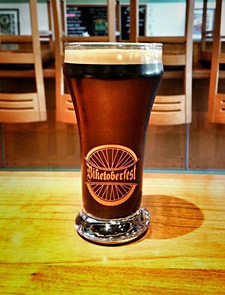 Please join us at Biketoberfest Marin on Saturday, October 17th, 2015. This popular annual brewfest and festival of all things bicycle in beautiful Fairfax, CA (the birthplace of the mountain bike) features over 35 handcrafted beers from 22 of the West Coast's best brewers. Savor delicious brews, take in the gorgeous Marin October weather, and enjoy great food, a cargo bike show, a family fun zone for kids, group rides throughout the day, and more! There is something for everyone at Biketoberfest Marin. All proceeds from the brewfest benefit the Marin County Bicycle Coalition and Access4Bikes and their efforts to expand Marin County's network of bike lanes, pathways and trails.
Details:
11:00 am-5:00 pm
Saturday, October 17, 2015
FairAnselm Plaza Parking Lots
765 Center Blvd. Fairfax, CA
(near Iron Springs Pub and Fairfax Post Office)
Save the Date!
Philly Bike Expo
Come join us at the Philly Bike Expo on November 7 and 8th, 2015 at the Pennsylvania Convention Center. The Philly Bike Expo is put on by Bilenky Cycle Works and is a celebration of bicycling. Now in its 6th year, the Philly Bike Expo promotes the fun, function, fitness and freedom to be found on two wheels. The Philly Bike Expo creates an environment that fosters relationships between the cycling community and the dedicated companies and organizations that are the foundation of bicycles as a lifestyle. The purpose of this event is to admire the artisans whose craft enables us to ride two-wheeled art, to applaud the activists whose tireless efforts further our cycling infrastructure, and to explore cycling as a fun and efficient transportation alternative.
The North American Handmade Bicycle Show returns to the West coast in 2016. It will take place at the Sacramento Convention Center in Sacramento, California on February 26th, 27th, and 28th, 2016. Come and see the work of some of the premier bicycle frame and component manufacturers throughout the world. Make sure to stop by our Booth #512 and say hello. If you love bicycles, this is an event that you don't want to miss!
Giving Back
Paragon Machine Works donates 100% of all revenues from the sale of our bottle openers and promotional items to non-profit organizations that promote bicycle safety, awareness, and community.
During the months of July and August we will donate our sales to the Bay Area Outreach & Recreation Program (BORP). BORP is a non-profit organization in Berkeley, CA working to improve the health, independence and social integration of people with physical disabilities through sports, fitness and recreation programs. Of particular interest to us is their Adaptive Cycling Program that gives people of all ages access to a fleet of hand cycles, tandems, recumbent trikes, and therapeutic trikes. Participants ride independently or on organized group rides on over 40 miles of trails from their Adaptive Cycling Center located in Berkeley's Aquatic Park.
Since our Meet Your Make Tour is at China Camp State Park in September, we thought it was only fitiing to donate all our proceeds to Friends of China Camp (FOCC) during that month. With its stunning natural beauty, unique cultural history, and miles of bicycle-friendly trails, China Camp State Park is an irreplaceable resource not only for Marin County, but also for citizens everywhere. Those of you who have ridden or hiked on the trails at China Camp have an intimate understanding of what a special place it is. FOCC's mission is to keep China Camp open and thriving through community outreach and education, maintaning a sustainable funding plan, and maximimzing efficiency of park operations.
We hope that you will join us in our efforts to support this fine organization.
We appreciate your support!
Total amount donated to date: $8982
Previous Beneficiaries
• Sonoma County Bicycle Coalition • National Interscholastic Cycling Association • Friends of China Camp • SF Urban Riders (McLaren Bike Park) • Bike East Bay • Friends of Tamarancho • In Memory of Tom Polermo • Marin Museum of Bicycling • The Friends of Stafford Lake Bike Park • VetBikes.org
---
Sign Up for our Monthly E-Newsletter
Our monthly newsletter will let you know about our new products, events that we will be attending, and provide you with useful information on bicycle fabrication. We value your privacy and do not share your personal information with third parties. If you sign up to receive our newsletter you will receive a confirmation e-mail.