Paragon Machine Works News PMW and Loco Machine Headtubes Paragon Machine Works is pleased to announce that we will be taking over the production of Loco Machine's headtubes. We will continue to manufacture our headtube designs, as well as those of Loco. Pricing for all products will remain the same and we will attempt to keep all items in stock once we are up to speed.
Every effort is being made to minimize downtime. Limited sizes and quantities will be available within the next week on our website, with more stock being added mid-April.
We will continue to provide updates on Facebook, Instagram and our website News page. We appreciate your patience during this transition and look forward to providing you with excellent customer service.
New Products

Titanium Flat Mount Dropouts We have added titanium options to our selection of flat mount dropouts for a 12 mm hub. They are available in 58 degree, DR0085, and 70 degrees, DR0086. The dropouts come with a compatible 6/4 titanium caliper mount, BK0070, that must be welded to the dropout by the builder; locating features are integral, no fixture is needed for location. The brake mount is 10 mm thick and the axle hole is 12 mm.
Skewer for Enve Fork We now have a 12 mm DT Swiss skewer that is compatible with Enve forks, SK4035. The shaft of this DT Swiss RWS front skewer has been replaced with a black anodized 6061 aluminum shaft manufactured by Paragon Machine Works. It is threaded M12 x 1.5 mm, the nominal length is 100 mm, and the actual length is 127 mm. The quick release mechanism is the original DT Swiss product.
Goodbye Rebecca, Welcome Coco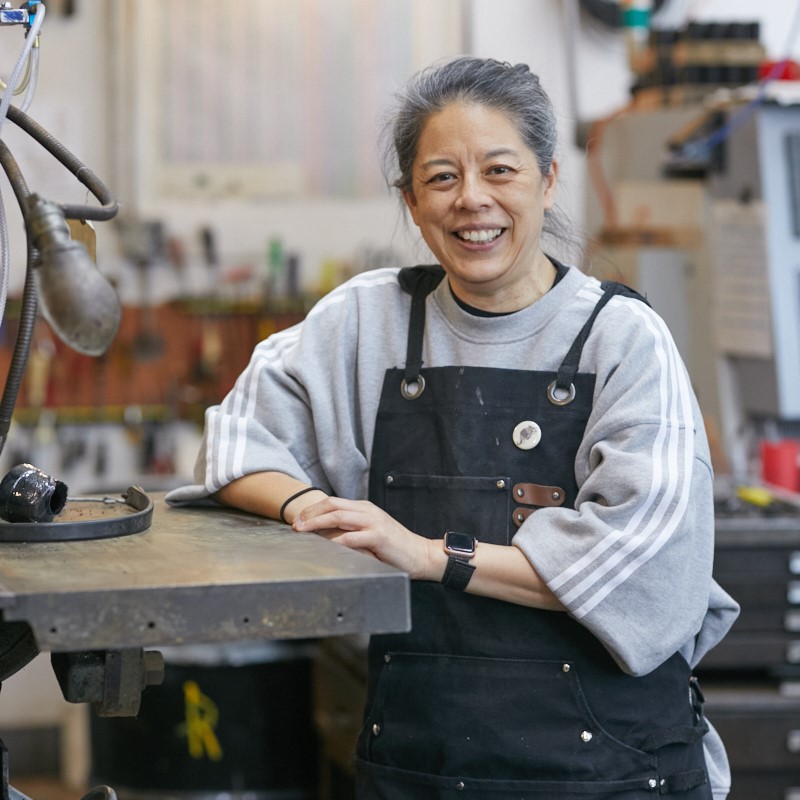 After 5 years of devoted service to the shipping and customer service departments at Paragon Machine Works, Rebecca is leaving to pursue her dreams in Colorado. Although we're very sad to see Rebecca go, we're happy to have Coco Brown taking over her job. Coco has a strong background in customer service and sales so we know she'll be able to fill the big shoes that Rebecca is stepping out of. We appreciate your patience and understanding while Coco is learning the job.
We all wish Rebecca the best of luck in her future endeavors and appreciate all her hard work over the years.
Welcome Erik We'd like to give a warm welcome to Erik Clyman who was recently hired as our Machine Shop Assistant. Erik is already making our shop run more efficiently and smoothly with his willingness to jump in and do any job that's asked of him. We're happy to have him as part of our team.
New Website
After over a year of behind-the-scenes work, our new website is up and running. We hope that you find it user-friendly and informational. On our end, it is a more robust platform that will allow us to provide better customer service and improved inventory management. We hope for a smooth transition but it always takes time to get used to a new system; please let us know immediately if you find errors or that something isn't working properly. Also keep in mind that your account from our current website WILL NOT transfer over, you will need to create a new one and re-subscribe to our monthly newsletter. We apologize for this inconvenience.
If you have a California Resale Certificate and a tax exempt account with us, we will need to help set up a new tax exempt account for you. Here's the process for creating one on our new website (this need to be done BEFORE you place an order):
Click on "Account" on the top right of our home page.
Click on "Register".
Fill in the necessary information and register for an account.
Notify us by phone or email that you've registered for an account and we will move your account into the tax exempt category.
Thank you in advance for your support, patience and understanding while we get things up and running.
NAHBS 2017 We enjoyed our time at the North American Handmade Bicycle Show and exploring beautiful Salt Lake City, UT. We are always amazed by the artistry and creativity found at this show, and were honored that many of the bikes had our components on them. It was great to touch base and get feedback from the builders, and to visit with hobbyists who build just a few bikes but are equally enthused. We feel fortunate to be a part of the friendly and collaborative handmade bicycle community.
Congratulations to the award winners, and a special shout out to those who used our parts on their frames: Kirk Frameworks (Best Road Bike, Best Fillet Frame), Sklar Bikes (Best Mountain Bike), Donhou Bicycles (Best Cyclocross Bike), Mosaic Cycles (Best Gravel Bike), Black Sheep Bikes (Best Artisan Bike), Kent Eriksen Cycles (Best TIG Frame), SaltAir Cycles (Best New Builder), Breadwinner Cycles (Best Columbus Build), Enigma Bikes (President's Choice), and Peacock Groove (Best In Show, Best Theme).
We hope to see you next year at NAHBS 2018 which will be held in Hartford, CT.