Meet Your Maker Tour a Success!

Blue Collar Bikes hosted the first Meet Your Maker Tour of the year in Sacramento on June 18th, and what an event it was! There was music, food and great beer from Bike Dog Brewing Co., pitbull puppies to snuggle with, a nice representation of Northern California bicycle frame builders, and most importantly, a bunch of money was raised to benefit PB SOC and Chako Pit Bull Rescue and Advocacy.
Robert Ives with the winner of his Blue Collar Bike that he raffled off for the dogs.
Paragon Machine Works News
Download the Paragon Machine Works Products and Price List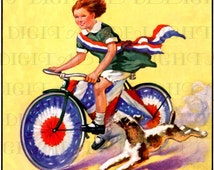 We will be closed on Monday, July 4th for Independence Day.
Please remember to place your orders in advance.
New Products
Stainless Steel Low Mount Disc Dropouts
We now offer our stainless steel low mount disc dropouts in 58 degree versions: DR1031 (no eyelets), and DR1035 (with eyelets). We are also revising and adding 58 degree options (with/without eyelets) to all our low mount disc dropouts so that there is consistancy across all products. The geometry will remain unchanged, but all materials will be 5 mm thick and relieved on the outside face. Revised dropouts will be sold as current inventory runs out. Our full thickness expedition versions will remain the same.
Skip Tooth Tap for T47 Bottom Bracket Shells
Our new skip tooth T47 tap, FT2002, includes the right and left taps for all our T47 bottom bracket shells. Both sides measure M47 x 1.0 D-2 8 flute, have a controlled minor, and are made from nitrited M-42 steel. They are designed to fit Park Tool handles and are manufactured in the USA by Cheboygan Tap & Tool Co.
Important: do not apply excessive force on the tap, it will break! See our Guidelines for Use for more information.
Steel ISO Brake Mount
We have added another steel ISO brake mount to our product line. BK2010 is pre-mitered to fit our 1-1/2" round, rear dropouts for a 10 mm axle. It will fit most seat stay diameters and angles, but may not be applicable in all cases. It is 1/4" thick with 51 mm hole-to-hole spacing and is made from 1018 steel.
Stainless Steel Hourglass Rackmount
Our newest rack eyelet, MS1015, is made from 304 stainless steel and is 10 mm wide x 9.53 mm in diameter, drilled and tapped M5 x 0.8. The outside profile is hour-glass shaped to allow the eyelet to fit around the tube.
Titanium Tubing
Some of our most popular tubing back is now back in stock, TI0155 (2" OD x .150" W) and TI0160 (1-5/8" OD x .151" W).
Giving Back
Paragon Machine Works donates 100% of all revenues from the sale of our bottle openers and promotional items to non-profit organizations that promote bicycle safety, awareness, and community. During March and April we donated over $600 to One Tam, an organization that works to preserve Mt. Tamalpais in Marin County, CA.
For May and June we will be partnering with Blue Collar Bikes who is hosting the first Meet Your Maker Tour of the year in Sacramento on June 18th. All revenues raised from this event and our promotional and bottle opener sales will go to PB SOC and Chako Pit Bull Rescue and Advocacy (for further information, see above). We are happy to be part of the worthy event and support such fine organizations.
We appreciate your support!
Total amount donated to date: $16,514
Previous Beneficiaries
• Sonoma County Bicycle Coalition • National Interscholastic Cycling Association • Friends of China Camp • SF Urban Riders (McLaren Bike Park) • Bike East Bay • Friends of Tamarancho • In Memory of Tom Polermo • Marin Museum of Bicycling • The Friends of Stafford Lake Bike Park • VetBikes.org • Bay Area Outreach & Recreation Program • Charlie Cunningham Medical Fund • Gearing Up • Trips for Kids • One Tam
---
Sign Up for our Monthly E-Newsletter
Our monthly newsletter will let you know about our new products, events that we will be attending, and provide you with useful information on bicycle fabrication. We value your privacy and do not share your personal information with third parties. If you sign up to receive our newsletter you will receive a confirmation e-mail.